Hamerex are excited to announce their brand new album IX which will be released on Monday the 7th of October 2013 through the bands own label IX Music.
The follow-up to 'Rites Of Passage' features 10 brand new tracks and is the bands most experimental release to date and their most diverse.
TRACKLISTING
1. IX Circles (Blower) 2:20
2. The Life Of Death (Blower) 4:46
3. Inferno (Blower) 6:29
4. Edge Of Madness (Blower/Moules) 5:16
5. The Extremist (Firth/Moules/Blower) 3:30
6. Mortuary (Blower) 3:37
7. The Stranger (Blower/Firth) 5:58
8. Descent Of Angels (Firth/Moules) 3:36
9. The Night Of Samhain (Blower/Moules) 11:03
10. Still The Wall Remains (Blower) 6:11
The IX album will be released as a special 6 panel digipak and will also be made available digitally on stores such as iTunes. The band have recently signed a distribution deal with Code 7 Distribution who will be making the album available on online stores such as Amazon, Play and HMV via Plastic Head Distribution.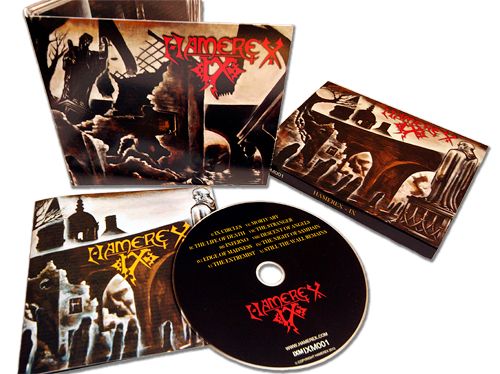 The band are taking pre-orders for the new album on the Hamerex website
http://www.hamerex.com/shop
We have uploaded 'The Life Of Death' from the album to our reverbnation profile. The song is based on the short story of the same name by Clive Barker in his 'Books Of Blood' series and has become a regular in the bands set.
Visit the link below to hear 'The Life Of Death'
http://www.reverbnation.com/hamerex
http://www.hamerex.com
http://www.facebook.com/hamerex