- Quite some news since the last newsletter, much work by here and a new project for 2016... (Tons of) things are still to be worked on, but hopes are high !
- The new LUSTRATION album "Jesus Bethlemitus Maledictus" will be released on CD on 25th of december. Straight right for the cursed night !
The first 50 copies will come with a metal pin of the LUSTRATION logo. This album is even heavier and darker, more primitive than Psymbolik. "Lost under a graveyard of flesh and stone, all hope of peace is denied. Essentially, Earth is a lost cause".
You can listen to 3 songs of the album on the bandcamp page. "Fading lights of Atlantis" is one of my fave ! Pre-orders will be open in a couple of days on the webshop for those who don't want to miss the metal pin.
- We have now a Bandcamp page. Most of the available FWP releases are uploaded and can be listened there. More will follow. In the meantime, go and listen :
https://forgottenwisdomprod.bandcamp.com/
- You have now a chance to prove your friends you are REAL friends. Offer them a gift card on FWP webshop ! We have 30, 50 and 100 euro value gift cards. One thing is sure, they will thank you for that gift. Start being the coolest friends now !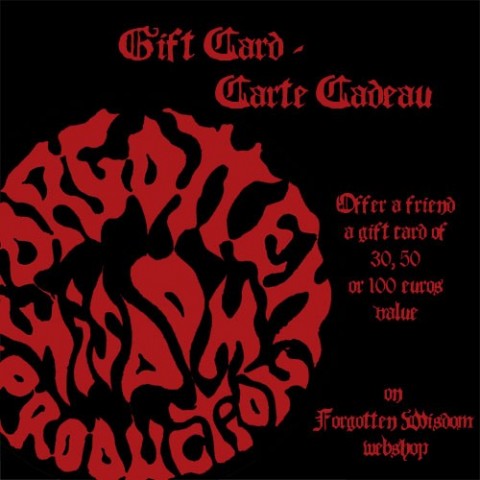 - Don't forget our latest releases, BELENOS "Spicilège" and GHAST "Terrible Cemetery" both on 12" vinyl, limited to 300 each. You can listen to the songs on the bandcamp page.
News in stock
CDs :
ABIGAIL "Welcome all Hell Fuckers" CD
ABIGAIL "Forever Street Metal Bitch" CD
AD HOMINEM "Antitheist" Digipack CD
ANUS MUNDI "Les Heures pâles" CD
ARGHOSLENT "Incorrigible Bigotry" Digipack CD
ASTROFAES "Knowing no Dawn" Digipack CD
BESTIAL WARLUST "Vengeance War till Death" CD
DAUGHTERS OF SOPHIA "(2.0°) Soeurs de sagesse" CD
DESTROYER666 "To the Devil his Due" CD
DESTROYER666 "Violence is the Prince of this World" CD
DIOCLETIAN "Gesundrian" CD
DOMAINS "Sinister Ceremonies" CD
ETERNAL HELCARAXE "To Whatever Ends" CD
EVIL WRATH "A Pact with Satan... The Fall of Man" CD
GLACIATION "Sur les Falaises de Marbre" Digipack CD
GRAND BELIAL'S KEY "Kosherat" CD
GRAND BELIAL'S KEY "Judeobeast Assassination" CD
GRAND BELIAL'S KEY "Mocking the Philantropist" CD
KHAOS DEI "Tell them Lucifer was here" slipcase CD
MALOKARPATAN "Stridzie dni" CD
MORTIFERA "Bleüu de Morte" CD
MOURNFUL CONGREGATION "The Book of Kings" CD
MUTIILATION "Black Millenium" CD
MYTHOS "Pain Amplifier" CD
NECROSADISTIC GOAT TORTURE "Armageddon Shall Come" CD
NUIT NOIRE "The gigantic Hideout" CD
SACRIFICIA MORTUORUM "Railler l'Hymen des Siècles" Digipack CD
SPEAR OF LONGINUS "Khephera" CD
STUTTHOF "Towards thy astral Path" Digipack CD
TSJUDER "Demonic Possession" CD
TSJUDER "Kill for Satan" CD
VLAD TEPES "Morte Lune" CD
VLAD TEPES "Anthologie noire" 2CD
XERBETH "Xerbeth" CD
VINYL :
ARCANUS TENEBRAE "Summa Essentia Obscura" 12"LP
ARCANUS TENEBRAE "Odium in Homines" 12"LP
AT THE GATES "Gardens of Grief" 12"LP
FWP074 BELENOS "Spicilège" 12"LP
BEYOND MORTAL DREAMS "Dreaming Death" 12"MLP
CRYSTALIUM "De Aeternitate Commando" 2x12"LP
ENSLAVED "Frost" 12"LP
FWP076 GHAST "Terrible Cemetery" 12"MLP
HAKUJA "Legacy" 12"LP
HORNCROWNED "Defanatus (Diabolus Adventus)" 12"LP
IMMORTAL "At the Heart of Winter" 12"LP
IMPALED NAZARENE "Die in Holland" 7"EP
IMPALED NAZARENE "Enlightenment Process" 7"EP
LOITS "Ei Kahetse Midagi" PIC 12"LP
LUCERA "Blackzuco" 12"LP
MESSIAH "Rotten Perish" 12"LP
MESSIAH "Underground" 12"LP
MOONSPELL "Sin/Pecado" 2x12"LP
MORTIFERA "Vastiia Tenebrd Mortifera" 12"LP
MORTIFERA "IV : Sanctii Tristhess" 12"LP
MORTIFERA "Bleüu de Morte" 12"LP
MORTUARY DRAPE "Spiritual Independence" 12"LP
MYRKR "Offspring of gathered Foulness" 12"LP
PATRIA "Nihil est Monastica" 12"LP
PATRIA "Liturgia Haeresis" 12"LP
SACRIFICIA MORTUORUM "Damnatorium Ferrum" 12"LP
SANGUINARY MISANTHROPIA "Radiant Death" 12"LP
SEPTIC FLESH "Sumerian Daemons" 2x12"LP
UNLEASHED "The Utter Dark/Revenge" 12"LP
VANDERBUYST "In Dutch" 12"LP
VLAD TEPES "War Funeral March" 12"LP
VLAD TEPES "Morte Lune" 12"LP
WINTER DELUGE "As the Earth fades into Obscurity" 12"LP
ZINES:
BESTIAL AVENGER III "Never Say Die" - NAGAWIKA
LUX OCCULTA zine n°1
TSHIRTs :
ABSU Hooded Sweatshirt
BATHORY Tshirt
BLESSED IN SIN Tshirt
DEATH Tshirt
ELECTRIC WIZARD "Lavey" Tshirt
ELECTRIC WIZARD "Black Masses" Tshirt
MGLA Tshirt
RAZOR Tshirt
=========================================================
Website/online shop :
www.forgottenwisdomprod.com
Sounds :
https://forgottenwisdomprod.bandcamp.com/
Facebook :
https://www.facebook.com/pages/Forgotte ... 5960743851
=========================================================
Out now :
BELENOS (France) "Spicilège" 12"LP
GHAST (Uk) "Terrible Cemetery" 12"LP
Out soon :
LUSTRATION (Australia) "Jesus Bethlemitus Maledictus" CD