So, I'm sure many have already heard, but Alfred Morris from the band Iron Man passed away earlier this month. I don't think anyone's made a thread about it yet, so I thought I would in tribute, and for people to pay their respects. He was pretty young still, only 60 years old. I think it was related to his diabetes. Just a shame. One of the premiere riff-meisters in the Maryland doom metal scene. If you haven't heard heard those first three Iron Man albums, do yourself a favor and rectify that. Classic stuff.
It's funny, I kind of avoided them for a while just because of the band name; when I was younger I just thought it was too generic, and ripping off Black Sabbath or something, but a friend of mine let me borrow one of their albums, and damn dude, that shit was legit.
Generation Void
from 1999. Heavy as a muthafucka! Really like the vocalist they had during this period too, Dan Michalak.
But Morris' tone and riffs, and his stage presence/flair when playing guitar, all sort of went into him being referred to as the black Tony Iommi. But honestly, musically I'm thinking they were closer to the 80s version of Pentagram (Death Row) really, especially with the guitars tuned down to B. His original band Force was pretty incredible too. There's not as much recorded there with them, but their early demos and one studio album, that was recorded years later, have been assembled into a
compilation
recently.
R.I.P. Al Morris III
(1957-2018)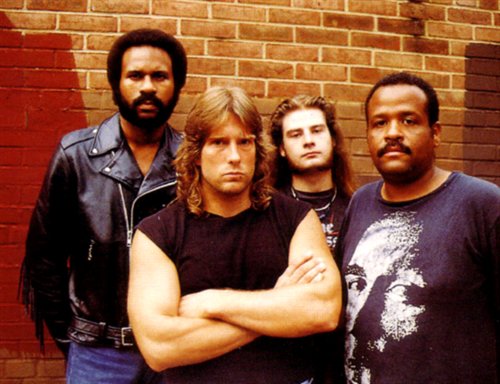 EDIT: this is my 666th post! (haha) "It's all for you, Damien!"