Yeah, it's schtick.
invoked wrote:
Kruel is correct that I only assessed the song briefly, because it stuck out as an example of pure awfulness. If you're a band that even takes your craft even 1% (hah) seriously, then you will not put songs that you know are crappy and rushed on an album.
I'm the first to admit that the song's weak, and that I'm embarrassed that it was the "breakout hit" when the real meat is in the other songs (Office Politics being my favorite). Since this started, I've heard more than once that a little band called Black Sabbath put a filler song on their second album. That song was Paranoid.
I don't get the idea that a rushed filler song takes away from the rest of the songs and our credibility. We had 9 songs, we just wanted one more to round out the list and threw it together for a gag. And hey, don't I even get points for acknowledging the song was rushed filler?
invoked wrote:
Your attack is cute, but I did in fact listen to the entire album 3 times (some songs more than that), and it really blends together after a while to the point where it's hardly worth pointing out individual songs. Is it really so hard to believe that I thought the music was just extremely unspectacular?
Not at all. What you're taking flak for is that the review is heavily biased and spite-based. Thinking the music is unspectacular is a long way from rating it 1% and trying to paint it as a collection of the worst, least-inspired riffs ever put down. Claiming it's obviously grasping at the apron-strings of BBB and failing in every way. These are lies. If you were honest, it'd maybe get a 30% or similarly reasonable number, and wouldn't abuse hyperbole to this extent. "This is the absolute definition of failure, in every possible aspect." "'Unoriginal' doesn't even begin to describe this, several riffs sound as if they were lifted from Bonded by Blood with little or no effort to modify them in any way." What's with that lifted riff thing, by the way? Geez.
While I'm going through the review for great quotes, let me point out a few things.
"Fuck, their name is lifted from a fantasy game that features trolls, dragons, and warlocks." Not true at all. I created the name in about 2003, then years later heard about the fucking Warcraft guy. I was not happy. Honest mistake on your part though.
LK and Municipal Waste being "VH1 Metal." This baffles me. I've been using the term "VH1 metal" for years, myself, and this usage is akin to applying words like "sentimental" or "creamy" to a car bumper.
"Like many bands of the modern thrash 'revivalist' movement, Lich King pride themselves on their complete and strict adherence to the typical mid-80's American thrash style. Theirs is a scene populated by kids that go to local gigs all wearing jeans, baseball caps with the bill folded up, and of course denim vests bearing an assortment of obscure thrash patches." I'm pretty sickened by that myself, but I can get how you'd dismiss us among the new thrash for that. The kids that swear you need to adhere to the denim vest, tight black jeans and high-tops thing and worry about whomever is true and not, these people bug the shit out of me. I have short hair and am a t-shirt and jeans person. I don't own a denim vest or any hats. I own patches, only because because they come in CD promos. They're sitting in a pile beside my monitor. The point is that you've accused us of following trends or style based on visual image that's not important to the music, which we do NOT do, while... hey, who's this adorable lil' fella? It's you.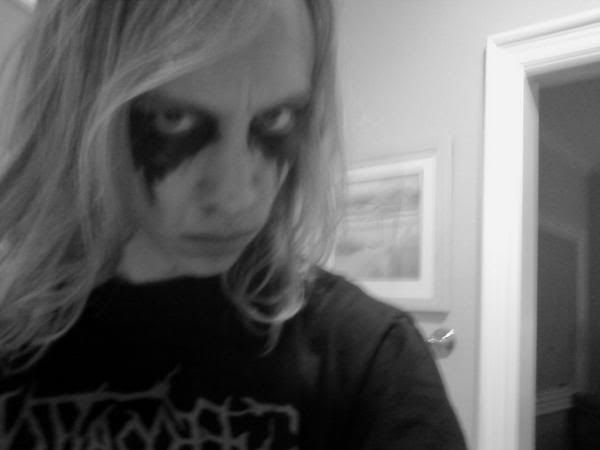 Stop it, you're scaring me.
It's funny if you consider that photo with this sentiment:
invoked wrote:
Yeah they are so clever because they complain about black metal being trendy and image-obsessed. That doesn't describe revivalist thrash though, that doesn't describe it AT ALL!!!!

edit: fuck it, I'm going to express my thoughts with a review.
Heyyyy... it ALMOST looks from that that you decided to write a negative review because you were upset by the song.
http://metal-archives.com/board/viewtopic.php?t=46359
invoked wrote:
That being said, if the mods think the review sucks, which they may, I'm sure they'll get rid of it. At least then the whining will end.
The mods seem fine with it, but then the mods (or at least rexxz, I don't know the others) are not my biggest fans around here. That's fine, but let's not pretend it's not lying based on spite. It's well-written, I'll give you that. High marks for spelling and grammar. Maybe that's all the mods require.
So. I'm sorry the song got to you, and I'm sorry that a goofy gag song had to turn into real enmity in the metal community. For fuck's sake, can't you guys laugh about anything? You're like a special interest group. We're angry! This is offensive! Humorless umbrage!