YOU CAN ORDER via
BIGCARTEL
BANDCAMP
Paypal:
paypal@disembowelrecords.com
Please attention:- to our Brothers in Germany:
We do not accept orders only for 1 CD, we serve a minimum order for 15 cds only. due your Country doesn't accept for registered airmail services but must be in Express mail Services and the postage is really high. sorry for this inconvenience. this is really unexpected.
- Maximum Cds only 10 copies for the trade
Due the Regulation of the Minister of Trade also customs regulations in Indonesia, personally I was thinking how to stop the trade with the foreign label but its hard, even very hard. honestly it slowly will stop a distribution and business, how the Underground Scene is able to compete and grow wider if the rules are complicated. Truly shit !!
Disembowel Records | update 22-08-15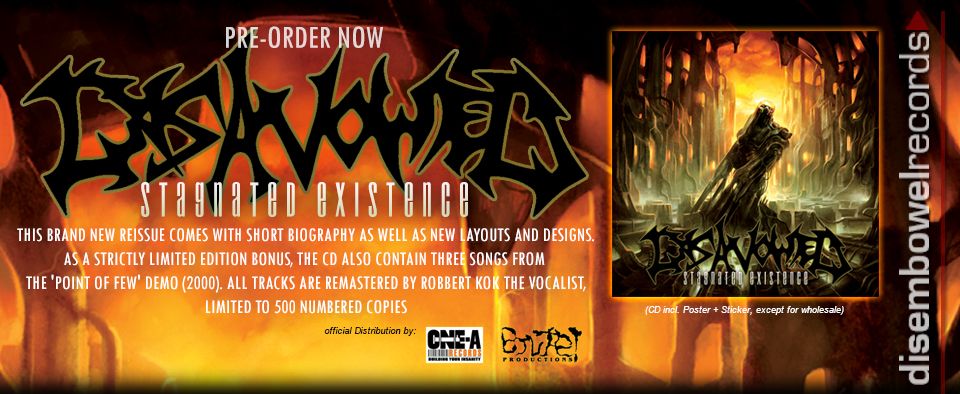 Product Info:
Band: Disavowed
Title: Stagnated Existence
Origin: Netherlands
Catalog Number: DR022
Format: Compact Disc
Style: Brutal Death Metal
Release Date: August 30, 2015
Limitation: 500 numbered copies
Extra:
- Plus Demo 'Point of Few' 2000
- All tracks remastered
- New Layout & Design
- Include short bio & Complete Lineup
Disembowel Records | update 12-08-15
Yep, We keep the cover in a very long time and now we have these badass cassettes in stock. You can order directly at our
http://disembowelrecords.bigcartel.com
Cassette Price:
IDR 35.000
US$ 6.00
(sealed & excl. s/h)
Disembowel Records | update 25-07-15
Explode Now
For those who missed out their previous release, Now available again in limited quanitites.
*Product Info
Band: Drunkard
Title: Like Sin Explode
Origin: Greece
Catalog Number: DR021
Format: Compact Disc
Style: Thrash Metal
Release Date: July 25, 2015
Limitation: 500 numbered copies
DRUNKARD 'Like Sin Explode' is recommended for people looking for a well written and played album with good performances and riffing that has enough craftiness to satisfy. This is a pretty good album to stand out amongst some of the better thrash you've heard, for those who like Slayer, Tankard, Artillery and Exodus ... strongly recommended.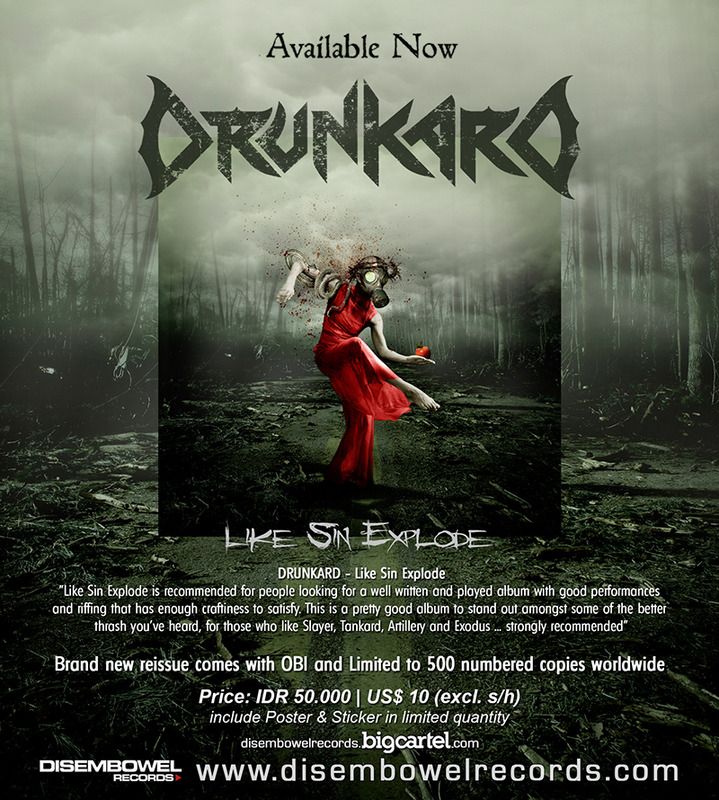 Video:
https://www.youtube.com/watch?v=j0FngD3exMY
ORDER:
http://disembowelrecords.bigcartel.com
Disembowel Records | update 06-07-15
Finally, Once more and you wouldn't disappointed ... Descane debut CD entitled 'impossibility' is available now !!
"Nothing more than a pure aggression. Powerful, intense with some hypre fast and technical guitar playing driving the songs, beside that the drumming on their songs are intense and varied with the usual blast beats being but also that never feel lifeless or devoid of creativity. The band has a very great talent and this band has a potential to the top"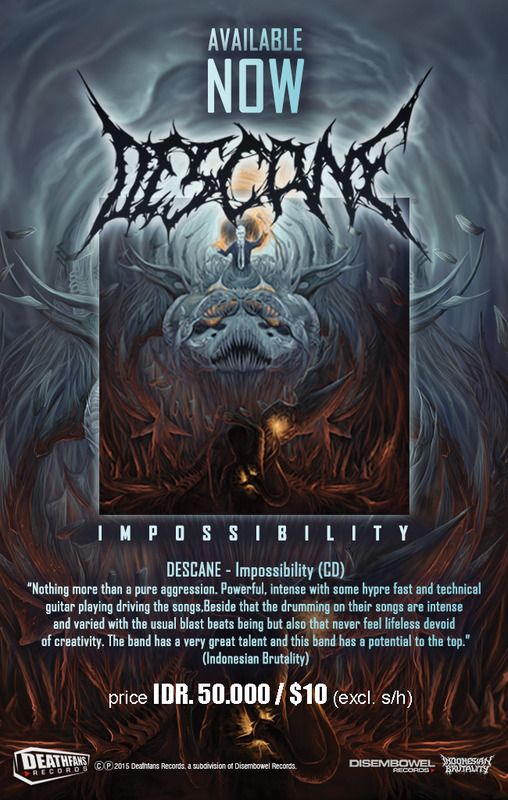 sample song:
https://soundcloud.com/disembowelrecord ... ossibility
Video Clip:
https://youtu.be/S2hrX-POXao
Disembowel Records | update 15-05-15
AVAILABLE NOW: ANGEL OF DEATH - Walking Out from 0514
walking out from 0514" like some kind of a transition album for this band. The content is a combination of quite heavy metal, thrash and more conventional Progressive, includes complex timings and odd meters while incorporating elements of symphonic metal and more traditional heavy metal. It also contains strong neo classical elements an contain many surprises to speak of, though the songs were written in Indonesian but definitely you will be impressed.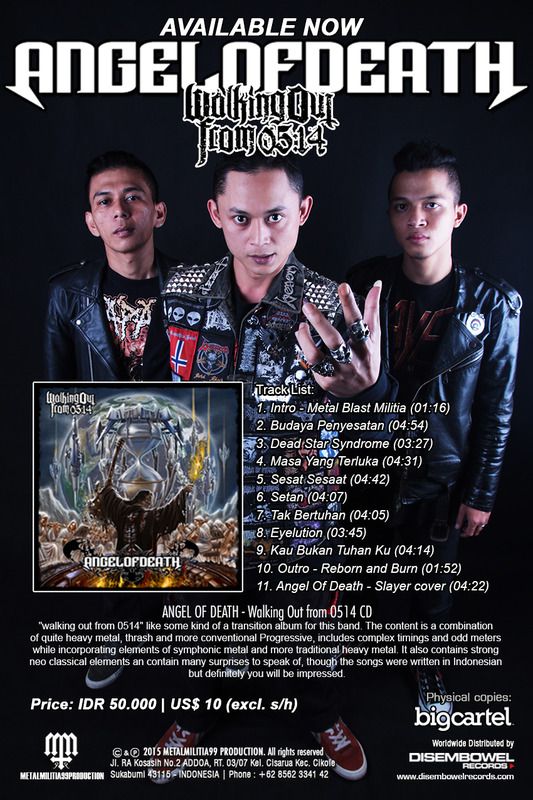 sample songs:
Angel of Death reverbnation
ORDER directly at:
Disembowel Records Bigcartel
Disembowel Records | update 11-03-15
OUT NOW TENGGOROKAN - Execution of Death (Debut CD)
Tenggorokan aim to perform the most furious death metal, pure and sick as possible. By this debut full length "Execution of Death" you can expect 10 tracks of interesting Indonesian Brutality compositions. You would not be disappointed and should expect a more mature and evolved, classic styled grooves, blistering speed, blast beat drumming, nasty growl vocals with insane and outstanding guitar solos. "Execution of death" is enough to warrant many repeated spins and if you are looking for material of a quality death metal music, you won't go wrong with this.
Disembowel Records | update 24-02-15
here we let you know a video teaser for Tenggorokan debut album, check this out
Disembowel Records | update 20-02-15
OUT NOW CRIMINOLOGY-Capitalist Destroyer CD
"The new Assemblage of Indonesian Brutality band, greatly influenced by Suffocation, Deeds of Flesh, Pyaemia and Inveracity. Hyperblasting tempos and head smashing groove will lead you in a whirlwind of sickness"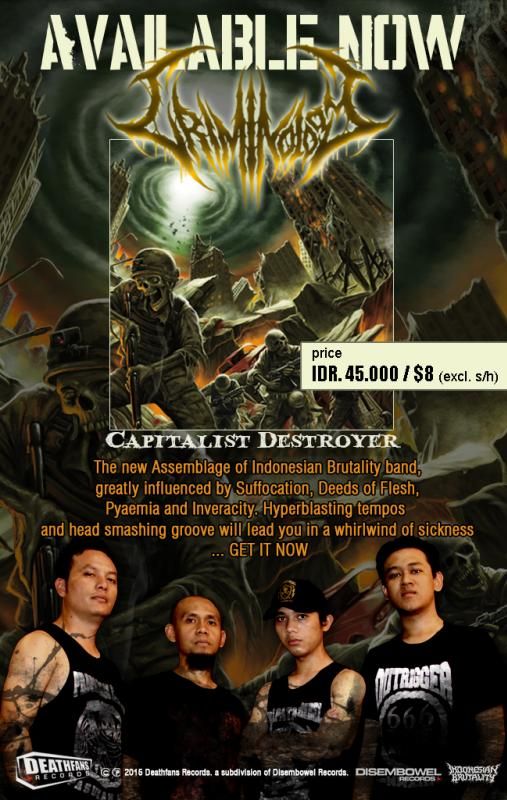 sample songs:
https://soundcloud.com/disembowelrecords/criminology-mati-berkarat
Disembowel Records | update 01-12-15
Disembowel Records are proud to announce the signing of Greek Thrasher DRUNKARD !!!
for the re-issue of Like Sin Explode album...This is the second album that recorded, mixed and mastered back in 2008 in Hertz Studio in Poland (Vader, Decapitated, Behemoth, Hate) and the artwork was made by Killustrations (Sodom, The Crown, Dew-Scented, Aborted) ....They offers up crunchy metallic thrash, Stay tuned for more info and updates !!!
Disembowel Records | update 12-17-14
Tenggorokan - execution of death CD
Disembowel Records | update 06-23-14
Highly Anticipated Debut Album of the year finally drops, !!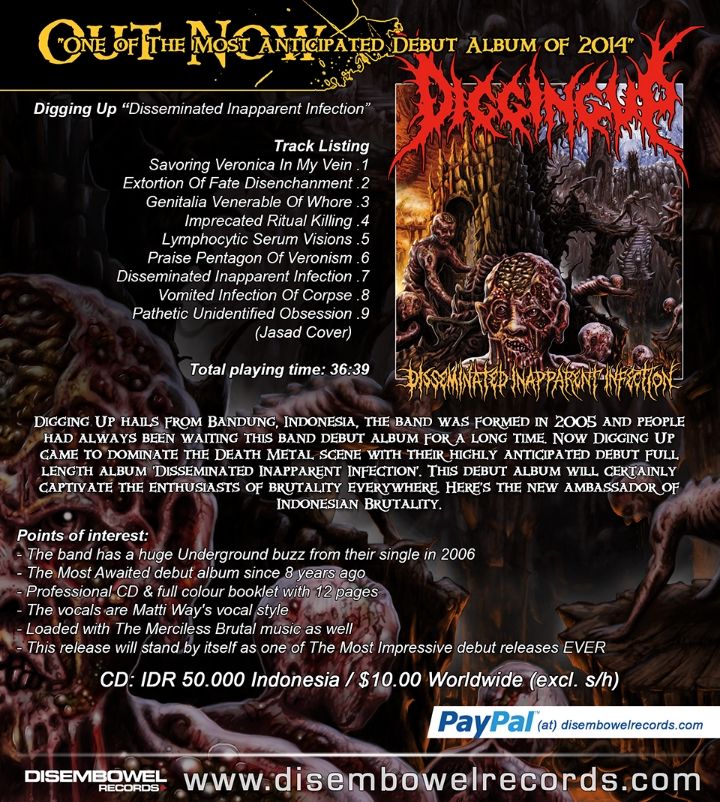 Product Information
Band: Digging Up
Title: Disseminated Inapparent Infection
Location: Bandung, Indonesia
Catalog Number: DR019
Format: Compact Disc
Style: Brutal Death Metal
Release Date: 18 June, 2014
check and listen their sample songs here:
Digging Up:
Digging Up Reverbnation
Soundcloud
Hydro:
Hydro Reverbnation
Tenggorokan:
Tenggorokan Reverbnation
OUT NOW Interfectorment Debut EP | update 16-12-13