Arkhane wrote:
So in other words, resistance blocks a set amount of voltage no matter the strength, but the ohm blocks a variable amount of voltage. This seems like the difference between the two put very simply. Correct me if I'm wrong.
iambatman explains it perfectly (thanks man).
I didn't want to elaborate (much) on the subject to avoid misunderstandings or over-complicate things for you. I'll give you a simple experiment to better understand it.
Using a volt ohmmeter measure the terminals of the speaker. If the speaker has a nominal (name) value of 8Ω it may read around 6Ω. Why? Because
you are measuring the DC resistance of the speaker instead of impedance.
Measuring the speaker again with an impedance bridge this time (which makes its measurements using an AC test signal) you will get a range of readings that vary with the frequency of the test signal.
It's not uncommon for the same 8Ω speaker to produce varied readings from let's say 3Ω to 40Ω.
Arkhane wrote:
Those equations are incredibly helpful, by the way. I saw a youtube video right after I posted (because fuck college, YOUTUBE!) and the guy mentions that when plugging in multiple cabs are speakers, the ohm settings of the cabs are multiplied, and the product is divided by the total of adding the two ohm settings, giving you the setting you should set your amp head to. Something like: (Y x Z) / (Y + Z) = Amp load. Again, correct me if I'm wrong.
This equation is the simplified version of the one I gave. I'll explain it a bit more, so please, bear with me.
You can connect resistors (well, almost everything) in three ways: Serial, Parallel, and Mixed (the combination of the two).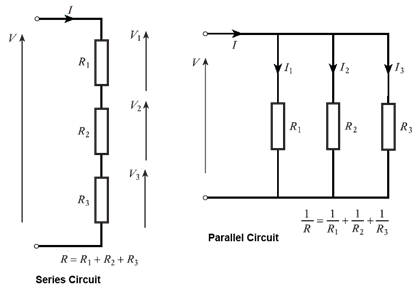 (for some reason its not displayed correctly, just click "view image")
When you connect in series it goes like this
Rt = R1 + R2 + ... + Rn
For example if f you have 3 cabs (n=3) (4Ω, 8Ω, and 16Ω) the amp load (Rt) will be 4+8+16=28Ω.
As I explained above, when in parallel its
1/Rt = 1/R1 + 1/R2 + ... + 1/Rn
When n=2 it goes like this:
1/Rt = 1/R1 + 1/R2 = R2/R1R2 + R1/R1R2 = R1+R2/R1R2 <=> Rt = R1R2/R1+R2.
That's the
(Y x Z) / (Y + Z) = Amp load
that guy was talking about.
Clearly it's
Rt = (R1 x R2 x .... x Rn) / (R1 + R2 + ... + Rn)
When in a mixed (both serial and parallel) you use those two equations til you reach a single figure.
For example if you have a cab @ 8Ω and two cabs @ 4Ω and the 8 and one of the 4 Ω are in parallel:
Using the above equations you calculate first the parallel subtotal R2= 8x4 / 8+4 = 32/12 = 2.666, then add the 2 serial together Rt= 4 + 2.666 = 6.666 Ω Amp load (love this one \m/).
As a thumb rule, if you want to raise impedance you connect in serial - if you want to lower impedance you connect in parallel.
Not that you'll use all this much with one cab and one amp, but still, (any) knowledge is power.
Just remember, all this is theory. When you apply theory in real situations (unless you're really sure about what you're doing) always ask help from people who know what they are doing.
PS A simple place to check out about speaker impedance and connectivity, with a handy online calculator to boot:
http://www.speakerimpedance.co.uk/?page=calculator